Kitchen Stuff Plus is a leading Canadian retailer in housewares and home decor. Our concept is simple - buy direct and pass the savings onto our customers. We're obsessed with finding modern, unique solutions that truly help make everyday life easier and better.
With our incredible savings, superior selection and exceptional service, we've been voted one of the GTA's best places to shop again and again. We are very proud of the fact that most of our awards have been honouring our great staff and customer service. In return, we're proud to have loyal, enthusiastic customers who keep coming back and we love welcoming new people to our in-store and online experience.
Every year, we continue to expand, not only our stores, but also the exciting, modern products on our shelves and on our website. From fun and functional kitchen gadgets to the best brands you know and love for your favourite appliances, we've expanded to carry a wide assortment of furniture, including outdoor patio furniture with a selection that continues to grow.
One of our favourite growing assortments is in our storage & organization department. Over the years, we've learned that you love being organized, and so do we. From pantry and cabinet organizers to entryway solutions, canister collections and more - we have everything you need to organize every room of your home.We love love making gift giving and seasonal decor easy for you! Whether you're shopping for Christmas, Thanksgiving, Easter or summer, you'll find a vast assortment of unique gift ideas at every price point, modern and trendy decor, entertaining must-haves and so much more.
What's The Plus?
Savings delivered in more ways than one.
We're committed to providing real, honest value. Our prices are up to 60% less than department stores and other specialty retailers. If you find a lower price somewhere else, we'll match it and beat it by 10%.Along with our everyday value, we hold special sales events throughout the year, including our famous warehouse sale. Be among the first to know about our exciting promotions and events by joining our email list or following us on social media. Find us at facebook.com/kitchenstuffplus, @kspstuff on Instagram and on pinterest.ca/kspstuff. We're full of ideas to inspire you!
The best selection of the best brands and the best prices.
We carry literally thousands of unique products designed to make your life easier and better. We pride ourselves in providing quality essentials to our customers from top brands like ZWILLING J.A. Henckels, KitchenAid, SodaStream, Umbra, Cuisinart and Nespresso.The best part is exploring. We have exciting new items arriving all the time that you'll love discovering and bringing home.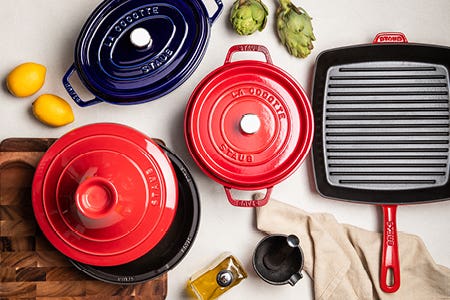 Friendly, knowledgeable staff who are always ready to help.
We invest in our employees with you in mind. If you need help finding out if a product is right for you or if you just want to learn more about our wide selection, our amazing staff are here to make your shopping experience easier.
We are always happy to help. We offer a hassle-free return policy and gift registry for your special day. Have questions now? Contact us here.
The History Of Kitchen Stuff Plus
Where it all began... 1987 - 1999
It's true: we started as a flea market booth! In 1987, our now-president Mark Halpern was a university student and started a part-time venture called Kitchen Stuff at a 10 sq. ft. booth at the Pickering Flea Market to help pay for tuition.
After just two years, the one booth expanded to 20 and by 1993, he opened a pop-up store at Yonge & Bloor for the holidays. It was so successful that the lease was extended, and by 1995, the location became a full-time store.
More stores were quick to follow with our original Yonge & Eglinton store opening in 1996, followed by our first big box store in Kennedy Commons in 1999.
Growing in-store and online... 2000-2010
We welcomed the millennium by launching our website! Quickly following that, our fourth and fifth stores opened in Mississauga and Toronto - our famous Orfus Road outlet.
One of our longest-standing locations, back in 2000, our Orfus outlet store was our biggest at the time and also did triple-duty as our head office and distribution centre.
As time went by, we kept popping up everywhere, including opening two more stores in 2004 - Richmond Hill and Pickering, our Cloverdale Mall location in 2006, Heartland Town Centre and Oakville stores in 2008 and our first Whitby store in 2009.
We also kept growing in the community, including our first stop at the National Home Show and setting up a fantastic window display to support Toronto Pride.
In 2003, we were so honoured to be named the winners of the Global Innovator Award for Canada by the International Housewares Association. Innovating and adapting to the needs of our customers is something we focus on to this day.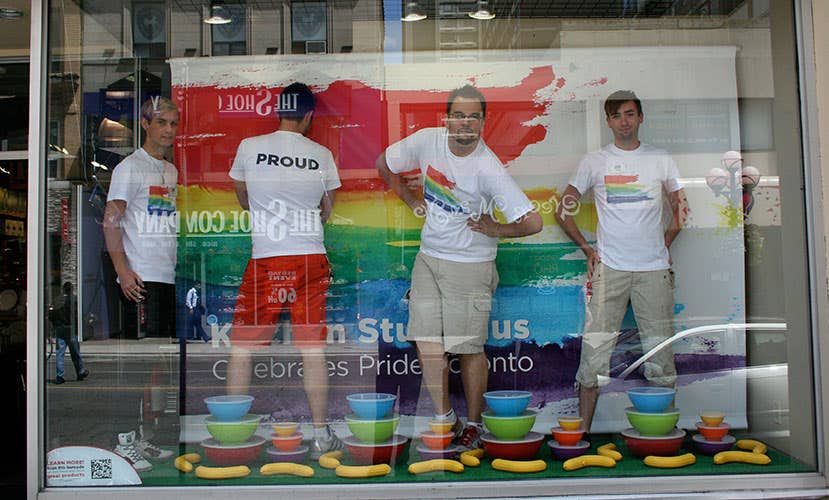 Evolving through the years... 2010-today
We continued to grow throughout the GTA, starting with opening the doors to our now-famous Warehouse Sale in North York back in 2010.
We went on to open our Liberty Village store in 2012, along with a new, larger distribution centre in North York. Many more stores opened, including Woodbridge in 2013, south Whitby and in the Trinity Commons Mall in Brampton in 2016
We were also on the move to bigger spots - first moving our Pen Centre store in St. Catharines in 2017, then moving to our biggest store yet in Kennedy Commons in 2018 and opening a second warehouse in Brampton at Shoppers World Mall.
Along with so many store openings, this decade saw us join the Retail Council of Canada, a not-for-profit, industry-funded association representing more than 40,000 storefronts of all retail formats across Canada. We were honoured to be nominated for several marketing awards from the RCC, including winning for our digital videos and winning the Excellence in Retail Marketing Award for our Back To School campaign in 2017.
We also expanded our social media presence, joining Facebook, Instagram, Twitter and Pinterest to reach more than 90,000 amazing followers.
With so much on the rise, we can't wait to see what comes next!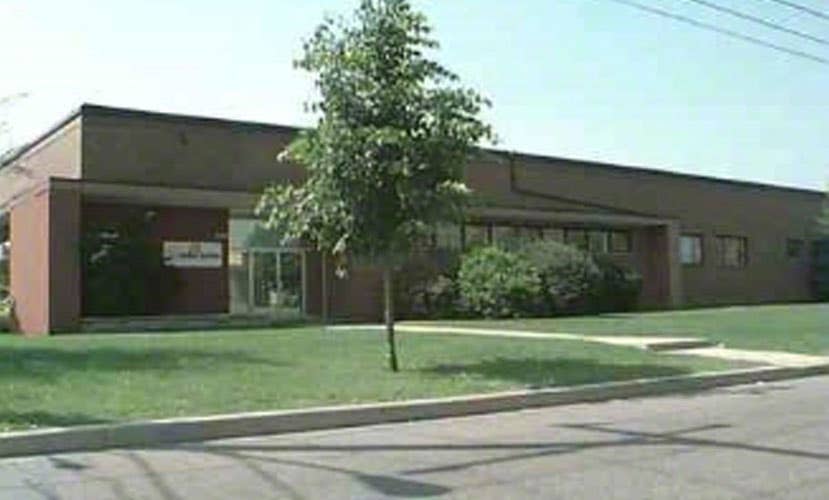 Since our beginning, Kitchen Stuff Plus has donated over $200,000 to Rethink Breast Cancer, a registered charity committed to supporting the unique needs of young women conerned about and living with breast cancer.
Along with Rethink, Kitchen Stuff Plus makes Red Cross donations to help with disaster relief. With the generous donations of our customers, we've donated over $65,000 to help countries around the world who have suffered from disasters like earthquakes, typhoons and forest fires.
Kitchen Stuff Plus is also committed to supporting causes in our local communities and those suggested by our staff. In recent years, we have been making donations to the Firefighters Toy Drive, the Diabetes Society, and the Fort York Food Bank. We are always responding to feedback and suggestions for causes to support based on the feedback from our teams.
Best Kitchen & Bath Store, Vaughan Citizen (2013)
Best Kitchen Accessory Store, Hamilton Community News (2017, 2018)
Best Kitchen Equipment Store, Now Magazine: Readers Poll Award (1997-2005)
Best Kitchen Gadget Store, Eye Magazine: Toronto's Best Readers Choice Awards (1999-2005)
Best Kitchen Store, Hamilton Spectator (2014-2018)
Best Kitchen Store, Mississauga News (2015, 2017, 2018)
Best Kitchen Store, XTRA! Magazine: Best of Toronto (1999-2002)
Best Kitchen Supplies Store, Markham Economist (2016)
Best Kitchen Supplies Store, Oakville Beaver (2016, 2017)
Best Kitchen Supplies Store, Richmond Hill Liberal (2014, 2015)
Consumers Choice Award for Business Excellence (1998-2001)
Global Innovator Award (Canadian Winner), International Housewares Association (2003)
Readers Selection Awards for Best Kitchen Store, The Oakville Beaver (2005)
Retail Marketing - Excellence in Retailing Awards, Retail Council of Canada (2017)